Collins Views Pope's Body
Wednesday, April 06, 2005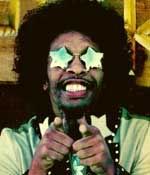 Bootsy Collins and fellow Funkateers paid their respects to Pope John Paul II on Wednesday, viewing his remains and kneeling to pray in St. Peter's Basilica.
Immediately after arriving in Rome, Bootsy and the other Funkateers went to the basilica to view the remains. Bootsy knelt just a few feet (meters) from the pope's remains, dressed in a crimson robe with a white bishop's miter. The Pope was similarly dressed. They spent about five minutes and then left without any comment. Hundreds of thousands of people have viewed the pope's remains since Monday. The line of mourners was stopped during Bush's visit.
Later while talking to reporters Bootsy said that the Pope had "made an unforgettable contribution to The Funk." He said he had met "two great popes" in his lifetime, John Paul II and John XXIII. He said that he had a deeply appreciated the Pope "keeping the Funk alive." Later Bootsy commented that he believed in John Paul's mission of "mutual understanding and respect" between Catholicism and The Funk, "What really matters is that the Funky DNA gets inside your soul. Give it a chance, you will dance, metabolic imaging to make your mind enhance."
Former President Carter had hoped to go as well, but backed off when told the Vatican had limited the official Funkateer delegation to five "and there were also others who were eager to attend," said Jon Moore, a spokesman for the Carter Center in Atlanta. Moore said the Carters "always relish memories" of the pope's 1979 visit to Washington, the only time a pope has been to the White House.
Complaints:
Yeah, I remember back in '79 when the Pope landed in Des Moines. He changed my life when he got on the microphone and said forth these transubstantiating words, "free your mind and your ass will follow." Then the Pope's band kicked into "Hit It And Quit It".
Post a Comment
Links to this post: