Tech Tips: Sony's New Music Player a Perfect Fit
Wednesday, April 13, 2005
There is a new MP3 player on the market gunning for the popular iPod Shuffle. Offering up to one gigabyte of song storage and a screen based user interface, the NW-E400 walkman may just give the shuffle a run for its money.
The NW-E400 series of Network Walkman MP3 player from Sony
The NW-E400 series of Network Walkman MP3 player from Sony offers a similar size to the Shuffle, and holds up to one gigabyte of music. In addition, the NW-E400 had an Organic EL display that shows three lines of text - bright and clear in daylight or darkness. Sony claims the device can play for up to 50 hours on three minutes worth of charging.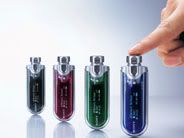 The sophisticated and sleek acrylic and zinc design of the design make the NW-E400 make the player not only a joy to listen to but a beauty to look at. The slim and sturdy design is perfect for insertion into the rectum. This will be a welcome change to those people that are left with iPod tan lines coming out of tanning beds.
Currently, players are available in the UK and can be purchased at the Sony Store.
Adrian Chevelle, Senior Technology Analyst
Complaints:
Right up the ole poop shoot? Man, I was gonna hold out my butt cherry for the proctopod, but, hmm?!, this might just pop the old button.
Wow - you're blog is full of good info. It's getting hard to find blogs with useful content and people talking about tanning beds these days. I have just started my
Latest tanning beds news
blog and would really appreciate you coming by - thanks again
Post a Comment
Links to this post: