Sean Hannity: Still in Love with Bush After All These Years
Sunday, April 16, 2006
(SNN New York) Despite low approval ratings, Sean Hannity still likes President Bush. He believes that History with vindicate the President's policies.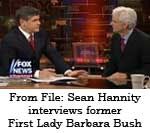 "Let me be straight with you — I like George Bush," Hannity said, as if there might be some doubt in anyone's mind. "I think he's a man of principle, a man of faith. I think he's got a backbone of steel and he's a real, genuine, big-time leader ... He's a consequential figure for his time. We don't see it right now."
In addition, a piece of legal paper idly left in a room where Hannity was having a meeting held several doodles. Included in the doodle was a large "W" surrounded by little hearts.
In an AP article today, Newsday columnist Ellis Henican described Hannity's special relationship with President Bush as a "double tug".
Complaints:
Sometimes its hard to be a woman
Giving all your love to just one man
You'll have bad times
And he'll have good times
Doing things that you don't understand
But if you love him you'll forgive him
Even though he's hard to understand
And if you love him
Oh be proud of him
'Cause after all he's just a man
Stand by your man
Give him two arms to cling to
And something warm to come to
When nights are cold and lonely
Stand by your man
And tell the world you love him
Keep giving all the love you can
Stand by your man
Stand by your man
And show the world you love him
Keep giving all the love you can
Stand by your man
Post a Comment
Links to this post: