Bill O'Reilly and the Dixie Chicks
Wednesday, May 24, 2006
(SNN New York) Last week, at the Time 100 party, TV and Radio talking head, Bill O'Reilly hit on Natalie Maines of the Dixie Chicks. In the past, O'Reilly has been extremely critical of the Dixie Chicks.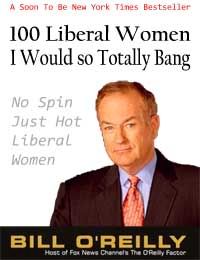 The Dixie Chicks were at the New York party to perform their new single "Not Ready to Make Nice." Because of their politics, the Dixie Chicks are now forced to perform mainly for the liberal elites of New York.
Maines describes the commentator running up to her after the performance and saying, "Just want to say that was great! I really like that new song." Maines then went on to confront O'Reilly, who has said that her new album "Take the Long Way" will sell poorly due to the politics of the group. Maines then said that O'Reilly backtracked by saying, "We really respect what you did. And we really respect that you stand up for yourself and blah blah blah."
While some may consider O'Reilly's behavior hypocritical, O'Reilly spells out his views on how to treat liberal women differently in his new book, "100 Liberal Women I Would so Bang." In the book, O'Reilly details how it is fine to have sex with liberal women, as long as you refuse to cuddle, and insult them before you leave. The book dedicates an entire chapter to Natalie Maines. Sadly, the remaining members of the Dixie Chicks are forced to share a chapter.
Complaints:
How dare you! Dear Leader's Mouthpiece is a great patriotic American!
- Badtux the Republican Penguin
Post a Comment
Links to this post: