FEMA Protects New Orleans
Wednesday, May 03, 2006
(SNN* Baton Rouge) FEMA has announced that it is closing its long term planning office in New Orleans. While many have criticized the move, emergency management analysts have praised the plan.
On April 27th, President Bush said that "One of the things that we're working on is to make sure that we've learned the lessons from Katrina -- we've learned lessons at the federal level and state level and the local level. And we're now working closely together in preparation of the upcoming hurricane season."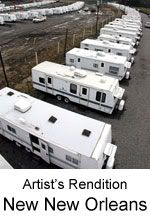 Some say FEMA should stay to do the job they have promised to do. Apparantly, they think FEMA is supposed to be rebuilding neighborhoods, schools and homes.
However, senior emergency management analysts say FEMA is doing the best thing it can possibly do for New Orleans. It is fleeing before the hurricanes get there. They say that if FEMA is unable to fix New Orleans with an army of illegal laborers when it is not even raining, when New Orleans gets hit again, FEMA is never going to be able to save it.
If there is no FEMA in New Orleans, we will have saved the lives of valuable federal employees. And those federal employees can then round up the remaining "freedom refugees" and herd them into state run reeducation centers, where they will be made into a clean burning renewable fuel source.
*Additional material was contributed by a man only known as "Wisco"