St. Louis Denies claims of being Most Dangerous City
Monday, October 30, 2006
(SNN Wichita) St. Louis city and civic leaders are calling a new ranking of St. Louis as the most dangerous city is misleading.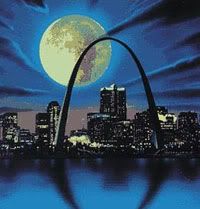 Mayoral aide Jeff Rainford says the survey is using the low population estimate of 330,000 instead of the de facto 353,000 commonly used. In addition, he claims that suburban and gated communities totalling nearly a million population and with low crime were not included in the report.
Also, Rainford was quick to point out that Vampire related and suspected Vampire related deaths were down 20% total since the new Master of the City took over. "The administration of Nikolaos was particularly hard on crime rates. Under the new Master Jean Claude, a respected member of our community, we have enjoyed a much better relationship with our undead residents."
The safest city in 2005 was Brick, N.J., with a population about 78,000, followed by Amherst, N.Y., and Mission Viejo, California. The second most dangerous city was Detroit, followed by Flint, Michigan. Compton, California, long known for it's lycanthropy issues came in at number four.
Federal Marshal Anita Blake refused to comment.
Mayor Francis Slay did not return calls to his office seeking comment Sunday.
Complaints:
Too bad about Detroit. I used to live there and it was a great city to live in. Great inland sailing, pub crawls, shopping. Uh, well, actually, I lived in Gross Point Park. But it was really close to Detroit. And the freeway system is very efficient. Sorry, I should have just kept this to myself.
I really miss Gary, IN. Have all the casinos really been that successful?
True, St. Louis is set up in an odd and reatarded way. THere is St. Louis County wich isn't really actual suburbs but don't get counted as St. Louis city. If the crime demographics included just the county and not the suburbs they wouldn't be number 1. Actually if the city just incorporated the rest of the county they would have a tax base large enough to fix a lot of the problems in the innercity.
Post a Comment
Links to this post: