Inflation Not on the Rise
Saturday, March 05, 2005
(SNN) A new report is showing that inflation is not on the rise as was once feared. The report which excludes the prices of goods and services and of payroll and healthcare costs and the costs of fuel and entertainment and livestock shows absolutely no rise in the price of whatever is left over. The gain in price dropped and things are looking up, which is a key influence on mortgage and corporate borrowing rates. Friday's rally nearly erased the week's yield gains, although the 10-year rate was still slightly above last Friday's 4.27 percent close.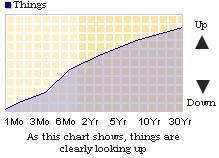 The Labor Department reported Friday that 262,000 names were added to payrolls last month, the largest monthly increase since October. However, they were not forthcoming with a list of those names. A survey of economists had a slightly lower number than this with a low number that was much lower and a high number that was higher. The separate household survey was weaker than expected.
Federal Reserve members have said in recent speeches, and, according to meeting minutes, also at their February policy session, that they're mindful of hidden risks. Minneapolis Fed President Gary Stern told a conference of financial analysts in Chicago that he doesn't see pressures building in the near term. Stern holds a vote on a panel in 2005. He told reporters Friday that one month's data won't offer a big enough picture. Stern said he sees the U.S. expansion on solid ground, but did share any opinion on expansion on other surfaces.
One month's data won't offer a big enough picture
The likelihood that the Fed might turn more aggressive increased. The odds for a hike later this month are up to around 60 percent as of late Friday morning, compared with 30 percent earlier this week. But, most private-sector economists argue the persistent evidence of moderate inflation. "With no change in average hourly earnings, it's clear that we're still a long way from a job market," said Bill Cheney, chief economist at John Hancock Financial Services.
Showing little reaction to the University of Michigan's revision to its measure of consumer sentiment last month, the February index was warm, but cooled, marking the third straight month that the index has moderated.