Dalek Taken Hostage by Concerned Citizens
Friday, June 10, 2005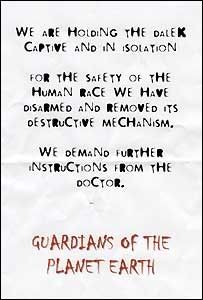 (SNN London) The BBC reported yesterday that a group of private citizens have reportly captured a dalek in the Wookey Hole Caves, near Wells. According to the report, the dalek was taken on Monday. On Thursday, the group known only as "Guardians of the Planet Earth" left a note for authorities along with the dalek's plunger device to validate their claims.
However, despite the vigilante group capturing a fully functional alien battle tank and holding its genocidal controller, police seem relatively unconcerned. A police spokeswoman said: "The owners reported this morning they had found what they are calling a ransom note, along with part of the dalek. If it is a stunt there is an issue of wasting police time." The police think that the dalek was probably taken by students or Ice Warriors.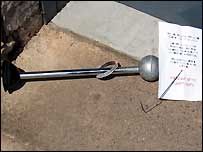 But the police should be concerned. If the dalek were able to get away from the Guardians of the Planet Earth, several thousand if not hundreds of thousands of people would be killed before it could be recaptured. There is also a fear that the daleks battle casing may be sold on the black market. The dalekanium casing alone is believed to be worth thousands of pounds, and Wookey Hole's owners have offered a £500 reward for its return.
The group says that they will not act unless they hear from the Doctor. Fortunately, Wookey Hole staff has been able to contact and speak to the Doctor's fifth regeneration (sixth incarnation), who may send a message to the group in necessary.
The dalek may have come to Earth as part of a scouting mission as part of their planning for the invasion of Earth, set for 2012.