Ahmadinejad Recognized as Perfect Stranger
Sunday, July 10, 2005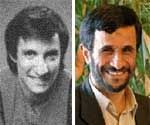 (SNN Tehran) Iran's President-elect Mahmoud Ahmadinejad continues to be a figure of extreme controversy. Now, allegations have spread that he may have been involved in a dark chapter in America's history, a 1980s sitcom.
White House spokesman Scott McClellan said the allegations should be taken seriously. "I think the news reports and statements from several former American hostages raise many questions about his past," he said. "We take them very seriously and we are looking into them to better understand the facts." The Bush administration has already disparaged Iran's election as "in the hands of an unelected few that have retained power through an electoral process that ignores the basic requirements of democracy."
Iran seems generally unconcerned on the status of their elected leader. Oh, Thursday, Baker Sakhai, the Iranian ambassador to Tunisia, said that these newest allegations where just the next stage in the West's campaign of hostility against Iran. In addition, three Iranians involved in the show, as well as Mr Ahmadinejad's own staff, have denied that he took part.
three Iranians involved in the show, as well as Mr Ahmadinejad's own staff, have denied that he took part.
Long a linchpin of ABC's TGIF, Perfect Strangers was a showcase of Ahmadinejad's slapstick comedy. Balki (Ahmadinejad) was a young shepherd from the Isle of Mypos in the Mediterranean, who moved to Chicago to live with his American cousin. Full-blown comedic genius ensued as Balki tried to come to terms with American life.
Ahmadinejad is a former Islamic Revolutionary Guard commander, unabashedly conservative and loyal to Iran's Supreme leader Ayat Allah Ali Khamenei. Ahmadinejad has slammed the United Nations as "one-sided, stacked against the world of Islam" and called the United States the "land of the free, home of the Whopper."
Many say that President Bush's pleas to the Iranian people to elect a more moderate President were what pushed the country to elect the hardliner. However, some say that it was his clever campaign slogan: "If elected, I promise to be firm yet flexible, tough yet vulnerable, soft yet absorbent."