Cartoon Clashes Prove Confusing
Monday, February 06, 2006
(SNN Kabul) Afghan security forces opened fire on demonstrators today leaving at least four dead. The shootings were the result of increasingly violent protests around the world over published caricatures of Islamic Prophet Mohammed. This has left many onlookers in the United States confused.
The worst of the violence was outside Bagram, the main US base in Afghanistan. The Afghan police fired on 2000 protesters as they tried to break into the facility. Two demonstrators were killed and five were wounded. Eight policemen were hurt as well. The US troops were not involved in the clashes.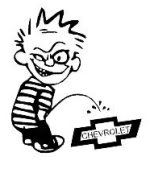 These clashes have left many American onlookers confused. We asked one American, Michael Wheelie what he thought of the protests. "I can't really see what the problem is," said Michael. "It's not like they had a cartoon of Calvin pissing on a Ford logo. That would be understandable. Even I've kicked a couple of asses over that one." He also had a suggestion for the Muslim world, "They should just make their own cartoons, maybe of Muhamed pissing on the Pope, or perhaps a crucifix." Wheelie himself has a cartoon of Calvin pissing on a Chevy logo on the back of his F-150.
Another man that we interviewed, Paul Crawley, also failed to see what was so offensive about the cartoons. "I usually don't get the political cartoons in newspapers, Muhamed with a bomb strapped to his head, now that's funny."
In addition to the protests today, Lebanese Interior Minister Hassan Sabei tendered his resignation after the parliamentary opposition and even some Cabinet colleagues demanded he step down over the burning of the Danish Embassy.