Anna Nicole Sacrificed Self
Wednesday, February 14, 2007
(SNN Miami) While many rumors are currently surrounding the death of pseudocelebrity Anna Nicole Smith, perhaps the most vicious involves her taking her own life.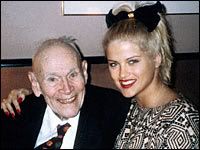 Several reports by news agencies last week characterized Ms. Smith's death as a probable suicide. However, SNN has gained exclusive information from an anonymous source reportedly close to the family, physically but not metaphorically.
The anonymous source claims that the potential yacht owner was so saddened by the disparaging remarks made about the diaper wearing astronauts of the United States that she took her own life rather than watch another day's worth of news over Lisa Nowak's diapers.
Smith reportedly did not just sacrifice herself out of empathy for astronauts, but also out of a need to stop hearing about adult diapers again and again and again.
It is not known if the reality actress had any feelings about NASA's use of BB guns, pepper spray, knives or mallets. However, it is said that she was fond of rubber tubing.
Other adult diaper wearers: pilots, deep sea divers, people who compete in radio station drinking contests.
Smith was 39 and much shorter than the 141 inches of snow, which fell on Redfield, New York and must be removed from rooftops before the buildings collapse under the weight.
Complaints:
BwaaaaaaaHaaaaaaaaaHaaaaaaaaaa
You are back with a vengeance.
YES!!!
Oh.My.Gawd.
I just glanced down at the word verification thingie, get this. jiijki (I think)
Post a Comment
Links to this post: