Intelligent Design Debate Reopens Other Arguments
Monday, September 26, 2005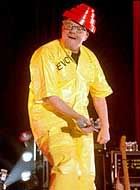 (SNN Sandusky) With the empowerment of religious conservatives, challenges to evolution are popping up as frequently as cases of priestly molestation. But many debating the virtues of Flying Spaghetti Monsterism vs. the dodgy concept of Intelligent Design have forgotten that there was a group that came before them, the Devolutionists.
The theory of Devolution was developed by Mothersbbaugh, Casale, Mothersbbaugh and Mothersbbaugh at Kent State University. Devolutionist theory was strikingly different in that it claimed that the unfit may live. The Devolutionist team started giving lectures about their theory around the country, and they are still at it today.
Even at the height of its popularity, Devolution had some serious critics. The film Fast Times at Ridgemont High went as far as to portray followers of Devolution through the the shiftless Vic Damone. But what do these one time Devolutionists think about Intelligent Design?
Heid appreciates intelligent design for a different reason
"Mostly, we like it," says Devolutionist Matt Heid. "They are fighting the same type of fight we had to fight. I really have no depth of respect for them." But Heid appreciates intelligent design for a different reason. "The very Theory of Devolution hinges upon the fact that sometimes the unfittest may survive. Intelligent Design has shown that not only to the weak and unfit survive, but they thrive on America's school boards."
We attempted to contact Jerry Casale for comment, but we found out he has a policy about staying away from psychotic people.
Complaints:
I found your blog by accident, great info keep it up. I will be checking back often now that I know you are here!
Are you interested in small business web site hosting? If so, I have a
small business web site hosting
site.
Feel free to drop by and tell me what you think.
Post a Comment
Links to this post: