Unleashing Hell Unpopular in Mosques
Saturday, October 01, 2005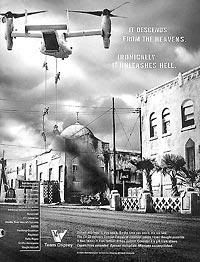 (SNN Washington) Yesterday, Boeing and Bell Helicopter apologized for a magazine ad published last month. The ad shows U.S. Special Forces attacking a mosque in their new Osprey aircraft.
The advertisement appears at a time when the image of the United States in the Muslim World is at an all time low. And for those who are not aware, the image of the United States in the Muslim world is not usually favorable, mostly due to the abomination of "Baywatch Nights".
The ad copy "It descends from the heavens. Ironically it unleashes hell" adds to the embarrassment of Boeing and Bell, who were also planning to sell the airplanes to Islamic countries.
Fortunately, the companies have found internal scapegoats to answer for the ad. Mike Cox, a Bell vice president, said the ad was developed by TM Advertising of Irving, Texas, and then initially released for publication by his company. "The bottom line is that the [Bell] people who approved this didn't have authority to approve it," Cox said.
Cox went on to say that the company did not actually hover an Osprey over a Mosque. This is probably a good thing, as the Osprey, which Congress just approved $19 billion dollars in contracts for, does not so much hover as fall out of the sky and become a fiery ball of death.
Complaints:
I never did understand the PBS haters and I rank them somewhere far below those that go to Mexico to have their penises removed by veterinarians. I would have never imagined that someone could build an entire website around the most failed and intelligence insulting talking points of all time. Don't worry, the next time the comet comes around, you will be taken.
Post a Comment
Links to this post: