Brown Continues at FEMA
Tuesday, September 27, 2005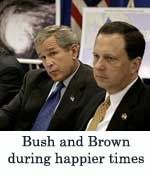 (SNN Washington) They say that there is a man for every time. And the man of the hour seems to be Michael Brown. The former FEMA director is still working for FEMA, now in the position of a consultant hired to figure out exactly what he did wrong.
Brown's qualifications will come in handy as a consultant to FEMA. He knows nothing about FEMA or what they do, making him an ideal government contractor. Brown will remain at FEMA for another month or until one of his friends gives him a job his is completely unqualified for with a significant raise, whichever comes first.
Brown blames his inability to act during crisis on Governor Kathleen Blanco and New Orleans Mayor Ray Nagin. Brown says the two officials "sparred during the crisis and could not work together cooperatively." Brown's statements do bring up a point. There needs to be some sort of overriding government agency that can take command in times of crisis.
Despite rumors that Brown will now seek employment in the private sector, it is entirely possible that President Bush will find another place for him in government. While Brown does not have any experience with emergency management, he does have experience at judging horse shows, and Bush is currently looking for another Supreme Court Justice.