What is in a Name?
Monday, December 19, 2005
Despite her incarceration, Alice Humbees has sent us this opinion piece.
As part of our jobs, Dr. Maynard forces us to keep abreast of current events. I was reading this story today about how 24 top officials in the Hussein regime were being released. The article said that to of the released prisoners were named"Dr. Germ" and "Mrs. Anthrax."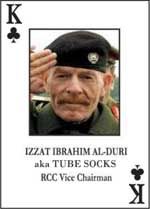 I'm seriously curious to find out where these nicknames come from. Are they self applied? I should point out that for brief point during the 80s I did want to be known as Mrs. Anthrax, although I doubt that in this case that the motivation for the nickname was a fierce attraction to Joey Belladonna.
And what about that Chemical Ali guy? Do you just wake up one morning and over your orange juice pancakes and sausage start telling your friends, "From now on I would like to be known as Chemical Ali"? It's almost like someone makes up these names to make it easier to vilify these people to the western world.
What about those less recognized henchmen? Stuck with less fear inducing nicknames, henchmen like Handsome Walid Hamid Tawfiq al-Tikriti, Izzat "Tube Socks" al-Duri, Mack the Knife, Boilermaker al-Azzawi, Taha Yasin Ramadan "The Human Windmill" al-Jizrawi and Hani abd al-Latif Tilfah "The Pittsburgh Kid" al-Tikriti must've had to work hard to inspire fear in their fellow countrymen.
Alice Humbees, opinions