RadioShack CEO Resigns
Tuesday, February 21, 2006
(SNN Fort Worth) RadioShack Corporation's Board of Directors accepted David Edmondson's resignation yesterday after a series of discussions over what is best for RadioShack.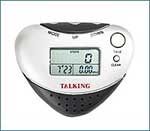 Edmondson held these conversations with a pedometer in southwestern Canada. "This situation is especially painful, because Dave is a talented and dedicated individual who has made many contributions to the company," said the pedometer. Edmondson's future had been in question given the low quarterly earnings and the discovery that he had lied on his résumé.
The board promoted Claire Babrowski, vice president and chief operating officer of RadioShack. Babrowski joined RadioShack last year after 30 years at McDonald's Corp., where she was either vice president and chief restaurant operations officer, or a senior fry cook who lied on her résumé. For the time being Babrowski will also retain her position as COO, because there's really a lot more money that way.
Over the next 18 months, RadioShack said it intends to achieve three major goals as part of its turnaround play: increase the average unit volume of its core store base, rationalize its cost structure and have an exorcism performed on all haunted stores.