Rove Issues Threats to Senate Judiciary Committee
Wednesday, February 08, 2006
(SNN Washington) Congressional sources say that Deputy Chief of Staff Karl Rove has threatened preemptive nuclear strikes on any Republican on the Senate Judiciary Committee who votes against the president.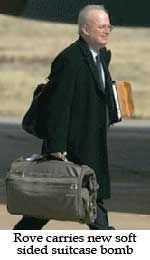 The administration has been alarmed that damage could result from the Senate hearings, which began yesterday. Just a few Republicans could result in a determination that the President was in violation of the FISA act. "It's hardball all the way," a senior GOP congressional aid said.
Over the last few weeks, Mr. Rove has been calling in virtually every Republican on the Senate committee as well as the leadership in Congress. The sources said Mr. Rove's message has been that a vote against Mr. Bush would destroy GOP districts in congressional elections.
While some pundits have praised Mr. Rove's strategy, others have complained that some, even red staters, may be put off by the threat of vaporization and radiation poisoning. However, some disagree. "I voted for my president, and I stand by my decision," says Texas resident Daryl Floor. "If destroying Austin in a ball of atomic fire is what we need to protect us from Al Qaeda, so be it. The President destroyed New Orleans, and the State of the Union is still strong."
"Well, I didn't like what Mr. Rove said, because it frames terrorism and the issue of terrorism and everything that goes with it, whether it's the renewal of the Patriot Act or the NSA wiretapping, in a political context," said Sen. Chuck Hagel, Nebraska Republican. While Hagel is outspoken, he has little to fear. Nebraska offers very few viable targets, and with SAC in Omaha, Lincoln is the only viable target that remains.
Complaints:
Perhaps so, but Lincoln is my hometown and the place where I earned my first university degree. Therefore, "Hands off, assholes!!!"
Post a Comment
Links to this post: