Cheney Threatens Iran with Consequences
Tuesday, March 07, 2006
(SNN Washington) Vice President Dick Cheney said today that Iran will not be allowed to have a nuclear weapon. Cheney said the U.S. was currently "keeping all options on the table in addressing the irresponsible conduct of the regime."
During a speech today with a pro-Israel lobbying group, he said the United States and other nations plan to send Iran a "clear message" that Iran will not be allowed a nuclear weapon. In addition Cheney added "The Iranian regime needs to know that if it stays on its present course, the international community is prepared to impose meaningful consequences."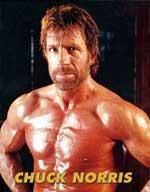 While Cheney did not elaborate on what "meaningful consequences" might include, it is a safe bet that at some point, Chuck Norris will be brought into play. Norris has served our country in so many capacities, it is almost impossible to count. He has been a Texas Ranger, a secret agent, an Army Ranger, a part Indian mountain man, a cop with a dog for a partner, a Chicago police officer, an undercover cop in Seattle, a treasure hunter, the head of an elite team of commandos, a one man army, the Sheriff of a small Texas town, a Karate instructor, a truck driver searching for his brother, and a guest appearance as himself. A man who can play all of these roles is a man to be reckoned with.
In addition to Cheney's statements, Secretary of State Condoleezza Rice today also refused to deny allegations that Norris is being prepped for a mission in Iran. When Scott McClellan was asked if Norris would be deployed, and if so, was there any way for Iran to stop this worst case scenario, all McClellan would say was, "The international community has spelled out what Iran must do -- that means suspend all enrichment activity."
However, the White House may have its back to a wall. To deploy Norris without a resolution from the United Nations Security Council would be a breach of both U.S. Treaty and International Law. While the Untied States insists that support for a resolution is growing, China, which has veto power on the Security Council, is insisting on more efforts for a diplomatic solution. "Iran should cooperate closely with the IAEA to settle the nuclear dispute," Foreign Minister Li Zhaoxing said Tuesday in Beijing. "There is still room for settlement of the issue without the involvement of Mr. Norris."