Harris Tries Out Unusual Strategy
Monday, March 13, 2006
(SNN Washington) After a week of seclusion, Representative Katherine Harris released a statement promising a major announcement about her future this week. Political strategists have called Harris's strategy unusual for someone staying in the race.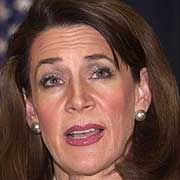 Republican strategist Rick Wilson said Harris is feeling "whipsawed". However, this is unhelpful, as no one knows what that means.
Another GOP strategist, John "Mac" Stipanovitch is named after a truck, and says, "it surely is an unusual strategy."
Harris's bold new strategy comes at the same times as the revelation that she took thousands of dollars in illegal contributions from the same defense contractor who bribed a California congressman, Republican Duke Cunningham, who is now doing eight years in federal prison.
Some go as far as to say that Harris may be considering stepping out of the race. Usually, the news that one's opponent is stepping down is good news, but it is theorized that if Harris were to stay in the race, she would not only lose, but drag down her party on the national level. If Harris does drop out of the race, it is likely that she will go back to her previous job, kidnapping puppies to sell them for fur.
But Harris may still have a trick or two up her sleeve in her fight against Bill Nelson, former astronaut and army veteran. She is considering calling him a liberal.
Complaints:
I have no idea why her behavior would stop anyone from voting for her. This is par for the course for the Republican assholes. I expect they will recognize her as one of their own and act accordingly. They are all ASSHOLES! Just think about that term -- asshole. A place where bodily waste is eliminated from the body.
Post a Comment
Links to this post: