Bin Laden likely Surrounded by Arabs
Sunday, April 23, 2006
(SNN Cairo) United States intelligence officials say that Osama bin Laden has to be very careful about whom he trusts and is likely surrounded by other Arabs.
A recent Fox News Poll showed bin Laden's popularity at only 33%. On the brighter side, he is still polling higher than his chief deputy Ayman al-Zawahri, who has fallen to the high teens.
Many experts agree that bin Laden is doing the right thing to surround himself with Arabs. It is likely that by doing this he is much safer than if he were to surround himself with Jews or Floridians.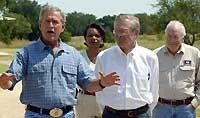 However, some say there is a danger that by surrounding himself with people that sternly hold on to the same ideology. It is possible he will put himself into an echo chamber which nothing critical of his cause can penetrate.
In completely unrelated news, President Bush was defending Donald Rumsfeld at Camp David on Friday. The calls for Rumsfeld's resignation have slowed since last week, when Bush asserted his authority as commander in chief to declare that Rumsfeld has his ``full support and deepest appreciation.''