Mick Jagger Un-American
Monday, April 24, 2006
(SNN Prague) Mick Jagger, who is old and hates America, has refused to give up a hotel suite for President Bush.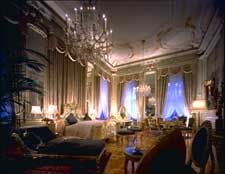 The Rolling Stone reserved the Royal Suite at the five-star Imperial Hotel in Vienna, Austria for June. Later, Bush aides tried to book the suite for a summit meeting. "White House officials had wanted to reserve the suite and all the other rooms on the first floor," said a source close to Jagger, "But Mick and the Stones had already booked every one of them."
The hotel suite is very important to Bush. Bush likes to style himself as a hometown guy, a guy you might meet on the way to the ice machine at the Motel 6. This is why it is imperative that he stay in the Royal Suite, at $5000, considered one of the finest hotel rooms in the entire world. Because after the taxpayer is no longer footing the bill, he will have to deal with rooms afforded to him by speaking engagements and consulting gigs. Rumor is that the Lavonia School of Hairstyling and Massage does not have a $5000 a night budget for their commencement speaker. It is also very difficult to find a hotel that will allow Dick Cheney in the rooms.
Some might say that the actions of the immature millionaire were a little inappropriate when dealing with one of the world's most powerful men, but others say Bush will just have to get used to the idea of not staying in the suite. But in a way, this is about more than two millionaires fighting over a room bigger than most people's houses. It is about how some people think it's ok that George Bush does not get to do whatever he wants.
Complaints:
To quote Mick from when he was young, "You don't always get what you want." And, "can't get no satisfaction!".
Too bad young Dubya was listening to Frank Sinatra instead of the Rolling Stones when he was just a tad, or he wouldn't have been surprised when Old Mick was just as ornery as Young Mick!
-Badtux the Elderly Penguin
Post a Comment
Links to this post: