Wisconsin Representative Proposes armed Teachers
Thursday, October 05, 2006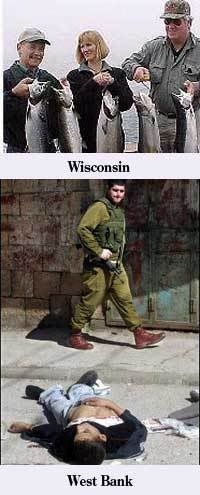 (SNN Green Bay) In the wake of the school shootings that occurred during the past two weeks, State Representative Frank Lasee (R-Bellevue) announced his plans for legislation allowing teachers, principles, administrators and other school personnel to carry concealed weapons.
As an example of a successful implementation of such a program, Lasee points out that schools in the West Bank and Gaza Strip, relatively equal to Wisconsin in terrorist activity, successfully adopted such a program twenty five years ago. "The element of surprise is a powerful tool," added Lasee. "In Israel and Thailand several lives have been saved because criminals don't want to attack schools where well-trained marksmen and women may return fire."
However some fear that the legislation may have unintended effects. Many students already feel as if they have been imprisoned in the American schools system. However, when teachers began carrying guns, these fears may be abated. American prisons keep tight control over when and how their officers can use guns. Apparently, prisons believe that guns may be dangerous.
In addition, Lasee intends to surround schools with electrified fences, guard towers, minefields, and where feasible a moat with an assortment of predatory fish. This will make the schools much safer and non-violent. However, a reminder to parents: If your vehicle approaches the school checkpoint at a high rate of speed, guards my be forced to open fire for their own protection.
Complaints:
This is exactly the kind of forward-thinking program that McDougal could make part of his platform. I must contact this Frank Lasee immediately.
Post a Comment
Links to this post: