Gonzales aide refuses to testify
Tuesday, March 27, 2007
(SNN Washington) Attorney General Alberto R. Gonzales's senior counselor refused to testify about her involvement in the firings of eight US attorneys, claiming her Fifth Amendment right.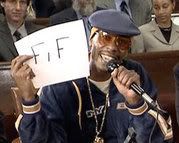 Monica M. Goodling, on a leave of absence from the DOJ said she would "decline to answer any and all questions" about the firings because she faces "a perilous environment in which to testify." One of Goodling's lawyers, John Dowd, said in a statement yesterday that "the potential for legal jeopardy for Ms. Goodling from even her most truthful and accurate testimony under these circumstances is very real."
House and Senate Democrats said they were disappointed that Goodling would not testify, and several raised questions about her motives. While it may seem like Goodling is an incompetent sycophant, putting her loyalty to a political party over the good of her country, that impression is incorrect.
What the Democrats do not understand is that Monica Goodling is a secret operative for the CIA, and outing her publicly would not only hurt intelligence gathering operations , but also the credibility of the Justice Department in its ability to deal with foreign countries.
Complaints:
"I decline to answer any and all questions because I face, "a perilous environment in which to testify."
Golly, I didn't know we could do that. That's going to be my line next time I end up in court.
Post a Comment
Links to this post: