Kazakhstan Prepares Attack on AliG
Tuesday, November 15, 2005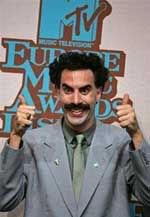 (SNN Astana) The Foreign Ministry in Kazakhstan has announced that they may consider legal action against comedian Sacha Baron Cohen, otherwise known as AliG. Cohen portrays a television reporter from Kazakhstan, named Borat. Borat talks about life in Kazakhstan and how they enjoy shooting dogs and killing Jews.
During the MTV Europe Music Awards show in Lisbon, Cohen's character Borat arrived in an Air Kazakh propeller plane flown by a one eyed drunken pilot. The performance has drawn official ire from the Kazakh government.
"We do not rule out that Mr. Cohen is serving someone's political order designed to present Kazakhstan and its people in a derogatory way," Kazakh Foreign Ministry spokesman Yerzhan Ashykbayev told a news briefing, as he set down his bottle of vodka and adjusted his eye patch.
Officials in Kazakhstan merely want to portray their country to the west as the up and coming urban nation that it is. The country boasts a population density higher than Montana, which, for all of you who studied geography in the United States, is in the United States. And, you don't get to be the sixth largest grain producer in the world by sitting on your hands.
If Kazakhstan decided to go after Cohen, they may only seek financial damages. However, if they send their Kazakhstan's National Security Committee after him, he may be imprisoned or executed. Ironically, if he is executed, he will have the right to a final dog shooting, and Cohen is Jewish.
Complaints:
What's scary is that this is actually real. If Kazakhstan wants to censor people in other countries who talk against the state, what kind of rights to the people who live there get. It just goes to show that he is right in his stereotypes.
Post a Comment
Links to this post: