Store Refuses to Deliver Xbox 360
Monday, November 21, 2005
(SNN Washington) Today, from Mongolia, President Bush offered strong words to Game Stop employees at the Montgomery Mall in Bethesda, Maryland. Bush made clear that if the store was not able to produce an Xbox 360 by the end of the week, war was inevitable.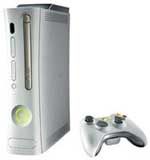 The President has given Game Stop until Friday to produce the game machine. If they fail to produce the Xbox and a copy of the Elder Scrolls IV: Oblivion, Game Stop may find itself at war. 'The military option is my last choice, not my first." the president said. "My intent is for the world to understand that the obligation is up to Game Stop to deliver the [Xbox] 360 like they said they would do. The choice is up to Game Stop to fulfill its word."
Senior administration officials visited the Game Stop near the end of June in order to reserve the gaming machine for the president. Initial talks went well with a $5 deposit being put on the Xbox 360, and a promise that the box would be delivered on time.
However, early Saturday morning an automated message was forwarded to the President by Whitehouse staff. The announcement told the President that his Xbox may not be available until early in 2006.
Through careful surveillance of the Game Stop, the CIA has determined that the store has many boxes that seem the right shape to contain the Xbox 360. In addition, the store is already stocking many of the Xbox 360 accessories.
Game Stop employees have reportedly been getting nervous as Marines have moved into the Montgomery Mall and taken positions in Nordstrom and Sears.
Meanwhile, Tony Blair has pledged a division of the elite SAS force, trained for warfare in more urban environments, like Bethesda. He set out the case for war in a statement to the House of Commons, but many in his ruling Labor Party are against military action.
Complaints:
Gamespot Jerk-fuckers, just give him the fuckin' ex-b0x before he starts another war. Keep his imagination occupied, so thst it will be hard for him to memorize his lines.
oh yeah, fuck fuck fuck fuck fuck fuck fuck fuck fuck fuck fuck fuck fuck fuck GameSpot mothertwerp butt sluggin' ass drippings.
Post a Comment
Links to this post: