Jack Bauer Quote of the day:
Tuesday, September 26, 2006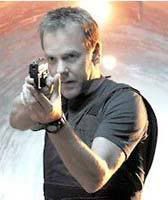 As we cheer or laugh out loud at his daring exploits, however, one wonders what liberal Democrats of the ACLU variety would do to a real-life Jack Bauer?

My guess: Put him in Leavenworth for life. But President Palmer knew his value, because President Palmer knew the real world.

Pat Buchanan
Complaints:
Remember, in Republican La La Land, television is reality. Ignore your lying eyes, what the boob tube tells ya is what is true!
- Badtux the Reality-based Penguin
Post a Comment
Links to this post: