WGA to get tougher
Monday, October 09, 2006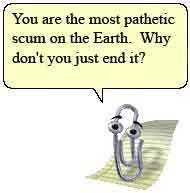 (SNN Seattle) Microsoft has announced that the Windows Genuine Advantage anti-piracy program will be tougher in its next operating system, Windows Vista.
The new software is even more aggressive that the current version which causes problems for 42% of users who actually paid for their copy of Windows. Even Microsoft has agreed that problems with the software is "coming up more commonly now."
If WGA believes it has found faulty license information, The popular Clippy will pop up and constantly tell the user demeaning things targeted to injure their self esteem. Users are warned that if they do not purchase a license withing 60 days, they are likely to commit suicide.