New Government Mascot Shows Wastefulness
Tuesday, October 04, 2005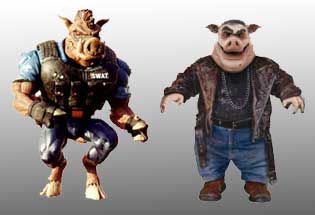 (SNN Washington) There is a new face joining the ranks of Professor Polar Bear, Deoxys the alien virus, monkey scientist Dr. E, and Washington D.C. Mayor Anthony Williams as well recognized, government sponsored, kid friendly mascots.
The concept of the Energy Hog is simple. If you are wasting energy in your home, you will attract the Energy Hog. Once the Energy Hog enters your house, he will watch you shower.
The Energy Hog is the brainchild of a Dallas-based advertising and promotion firm, TracyLocke. TracyLocke President Robert Chimbel believes the Energy Hog will become an icon "kind of like the dark side of Smokey Bear." It took TracyLocke two years to come up with the Energy Hog concept, leaving many onlookers to say, "Two Years, Seriously, WTF?"
But who is this Energy Hog? His name is Doyle. A seasoned character actor, Doyle played the villain in the Duke Nukem series of video games. "I was lucky to find the job," Doyle says. "I was afraid to by typecast, and you'd be surprised at how little work there is for an evil pig in the entertainment industry."
You'd be surprised at how little work there is for an evil pig
Doyle almost gave up on acting in the late nineties. "It was a tough time for me," says Doyle. "I had just had my part written out of Babe: Pig in the City, I was heavy into coke, and when I couldn't get the coke, I was drunk."
This is when Doyle became Born Again. "I started going to these church meetings, mainly because they had donuts. But as I sat there eating donuts, I started to listen. I thought I was messed up, but those people were deviants, much more f**ked up than me." It was though this group that Doyle got his first connections in the Republican leadership.
Complaints:
What I'd really like to see is someone pointing out how individuals who don't have gigantic gashog vehicles and 6000 square foot houses in which two people live, are subsidizing those humvee/mcmansion assholes energy costs.
fuck 'em in the ass, fuck 'em in the butt, fuck 'em hard, fuck 'em until they bleed, fuck 'em sunday, saturday, friday and every other fucking day of the week. Will someone just stand up and fuck these assholes hard! Huh! I stole Victory's word.
Post a Comment
Links to this post: