Congress to work 5 days a week
Wednesday, December 06, 2006
(SNN Washington) Soon to be House Majority Leader Steny Hoyer recently made the statement that starting January 4th, Congressmen could expect to be working five day work weeks.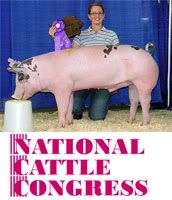 This legislative year saw votes no earlier than late Tuesday and most business wrapped up by Thursday afternoon. Hoyer wants the standard in the new year will require congressmen in the Capitol by 6:30 PM on Monday, and may have to stay as late as 2 p.m. on Friday.
However, not everyone is so happy with a five day work week. "Keeping us up here eats away at families," said Rep. Jack Kingston (R-Ga.), who typically flies home on Thursdays and returns to Washington on Tuesdays. "Marriages suffer. The Democrats could care less about families -- that's what this says."
Kingston also argued that staying away from work keeps him in touch with the common people. "When I'm here, people call me Mr. Congressman. When I'm home, people call me 'Jack, you stupid SOB, why did you vote that way?' It keeps me grounded."
While no one is disputing that Kingston is a stupid SOB, he may make a good point. For instance Rep. Debbi Wasserman runs her 7 year old's Brownie troop meeting on Monday nights. Now she must decide which is more important: teaching seven year olds how to sew, or running the country.
To many Congressmen, this schedule represents a sort of bait and switch. It is quite possible that not all of them would have run for office if they knew they were going to be expected to work five days a week. Now their only choice is to work five days a week for a measly $165,000 or step down.
Complaints:
Sign me up! $165,000 year. A retirement plan that really works. A medical plan that really helps, and I don't even have to report for work till Monday evening, and I'm always done by Friday afternoon.
COOL!!!
Post a Comment
Links to this post: