Editor's Note: I'm so excited
Thursday, December 14, 2006

In just over a month, Jack Bauer will again show us how to defend democracy. Now I know that the Hollywood liberals will try to tell you that Jack is merely a fictional character. I bet they would tell a different story if Jack had just shot out their wife's kneecaps.
Some people may say that there are Americans more heroic than Bauer. Even if that were so, it would be George Washington or maybe Chuck Norris. He would definitely be in the top three though.
If I had to pick Washington or Bauer in a fight, I would have to pick Bauer. Picture this: they are both in a rowboat on the freezing Potomac. It is a half mile swim to either bank. Bauer shoots a hole in the bottom of the boat. "Listen General, you're going to tell me what I want to know, or we're both going to freeze to death in this river." Jack fires another shot.
Norris is a wild card though. It could go either way.
I'm sorry, I really can't go on. I get so emotional when I talk about Jack Bauer.
Dr. Ryan Maynard, Editor, NewsBlog 5000
Oh and as HillCountryGal reminded me, the actress that plays Chloe (Mary-Lynn Rajskub) was caught smooching Rush. However, the actress claims that the kissing did not lead to a physical relationship. Better luck next time Mary-Lynn.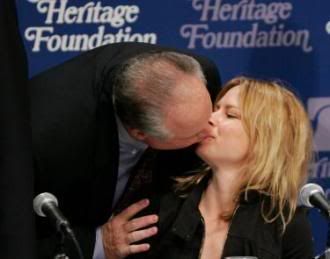 Complaints:
TV and movies are just things that screw with your brain, making you even more stupid and crazy.
Hey, it's just a bunch of monkeys fucking around.
Patriotism is stupid. You are a citizen of a planet, not a country.
Post a Comment
Links to this post: