Saddam's Death Sentence Upheld
Tuesday, December 26, 2006
(SNN Tokyo) During appeal today, Saddam Hussein's death sentence was upheld by Iraq's highest court. The court also said the former dictator must be hanged within the next 30 days.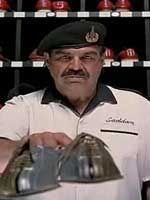 Since the verdict, bookies around the world have been taking bets on exactly when Saddam will be executed. But gamblers hoping to get a clue from the courts will be sadly disappointed. "Any day could be the day," the chief judge said in an obvious attempt not to skew early wagering. Some wagers are also being accepted on the location of the hanging.
Saddam was arrested in December of 2003. After refusing to turn himself in to police, he became the focus of a low-speed pursuit. He spent nearly an hour leading the 1st Brigade command of the US Army's 4th Infantry Division through the streets of Tikrit in his white Bronco.
It was widely thought that Saddam might have escaped his guilty verdict if his lead defense attorney Johny al-Cochran would not have been kidnapped and killed. In protest to the assassination, Saddam led a hunger strike which lasted from June 21, 2006 until June 23, 2006, when the former dictator was presented with a bag of Cool Ranch Doritos and a box of Ding Dongs.
What is not known is if Saddam had time while imprisoned to finish his latest book, "If I did it, how I would have killed all those Kurds."
Sadly, this means that Saddam will not make it to the next St. Valentine's Day, widely reported as being the former dictator and romance writer's favorite holiday.
Complaints:
Fight Evil With The Funk
Saddam leaves me hanging (or it will him). It was the liberal policies of world meddling that helped create him. Then they withheld the Funk. He is an example of what happens to a man that doesn't get the Funk during critical stages of his development.
F.e.w.T.F!
Cyprian
I am installing Ubuntu, so and the silly blogger won't let me log in!
Post a Comment
Links to this post: