Activist Judge Hates Freedom
Thursday, August 17, 2006
(SNN Detroit) U.S. District Judge Anna Diggs Taylor became the first judge to strike down the National Security Agency Warrantless Surveillance program today. The Judge said the program violated the rights to free speech and privacy as well as separation of powers.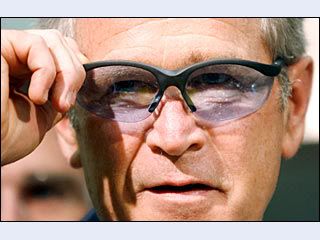 The American Civil Liberties Union filed the lawsuit on behalf of journalists, scholars, communists, terrorists and everyone else in the world who hates freedom.
The government argued that the program is well within the president's authority, but said proving that would require revealing state secrets. The ACLU said the state-secrets argument was irrelevant because the Bush administration had already publicly revealed enough information about the program.
Many will be upset about this ruling which basically contents that the President is not above the law. This begs the question, 'Why do we even have laws if George W. Bush has to follow them?'
Meanwhile, the President has begun dressing like Bono.